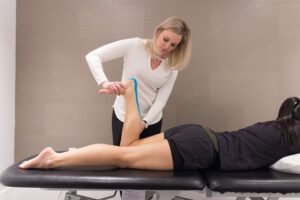 Physiotherapy is a branch of medicine that assesses, diagnoses and treats physical problems that may be caused by disease, injury or disability. Physiotherapists have different titles in different countries; they are called physiotherapists in many countries. Some countries have their own version of the word physiotherapist, such as kinesiologist, but they are all part of the same profession. Despite their title, physical therapists use a holistic approach that puts patients in control of their care.
Physiotherapy aims to restore function as much as possible, treating and preventing injuries. Physical therapists achieve this by working with their patients to relieve pain, improve range of motion, reduce swelling and inflammation, prevent joint and muscle damage, and improve overall fitness levels. Their treatments help patients threatened by disorders, conditions, injuries, environmental factors, disease or aging, to maximize their quality of life by improving their physical and social well-being.
WHAT IS THE DIFFERENCE BETWEEN PHYSICAL THERAPY AND PHYSIOTHERAPY?
difference between physical therapy and physiotherapy
When discussing the difference between physical therapy and physiotherapy, many suggest that physiotherapy includes manual therapies such as assisted stretching, soft tissue release, and fascia release. Physical therapists typically employ these same modalities while seeking to use exercise to strengthen muscles, improve balance, and help with coordination.
Physiotherapy usually requires a doctor's prescription, while physiotherapy can be accessed without a prescription in many cases. Also, physical therapists usually work in clinics or hospitals, while physical therapists often work in private practices. Finally, physical therapy focuses on the musculoskeletal system, while physiotherapy encompasses a wider range of treatments.
While in reality these terms can be interchanged, most clinics here in the United States refer to physical therapy instead. Either way, it's a hands-on approach that draws on medical training and focuses on injury prevention, improving flexibility, and managing acute pain, among other things. Whatever the name, physical therapists focus on improving the lifestyle of people with chronic conditions.
WHAT TYPES OF TREATMENTS DO PHYSIOTHERAPISTS USE?
Physiotherapists use a wide range of tools and techniques to treat conditions associated with different body systems. Some of these therapies include:
Manual therapy uses the therapist's hands to manipulate joints and soft tissues.Joint mobilization restores normal motion to stiff or frozen joints.Massage relieves muscle tension and body pain.Electrotherapy uses electrical currents to stimulate healing and reduce pain.Heat and cold therapy uses heat or cold to relieve discomfort and swelling.WHAT ARE THE PATHOLOGIES TREATED BY PHYSIOTHERAPISTS?physical therapy requirements.Physiotherapists treat a wide variety of physical problems, ranging from nervous system disorders to back pain. Some of these conditions include: